Add: EAST OF TAIDONG ROAD,TAIAN,SHANGDONG,CHINA
Tel: 86-538-8565919
Fax: 86-538-8565299
Email: inquiry@cncadeer.com doris@cncadeer.com
Products
Your position: Home > Products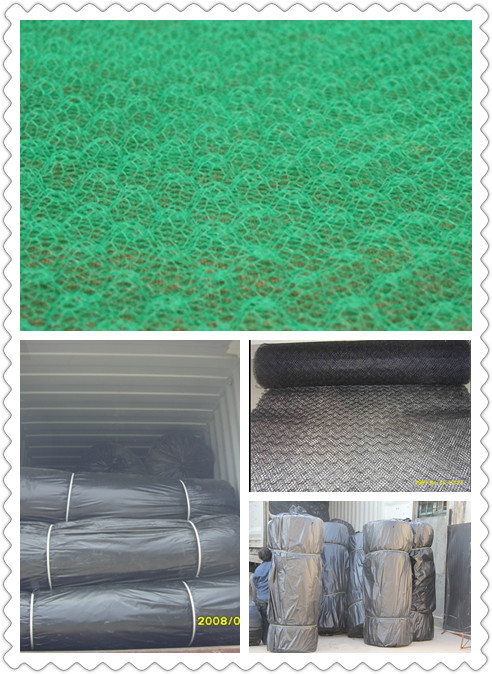 GEOMAT(EROSION CONTROL MAT)
1.thickness:10-16mm
2.weight:220-480g/m2
3.tensile strength:0.8-3.4kn/m
4.layers:EM1/2/3/4/5
Product description: GEOMAT(EROSION CONTROL MAT)
Product introduction
GEOMAT(EROSION CONTROL MAT)

SPECIFICATIONS
1.thickness:10-16mm
2.
weight:220-480g/m2
3
.tensile strength:0.8-3.4kn/m
4.
layers:EM1/2/3/4/5
5.color:green,black,white,etc.
INTRODUCTION
Three dimension vegetation net is a new-typed seed planting material with tridimensional structure, which can protect the ground surface being corroded before the turf is growing up, and fix the seeds.The compound protection layer formed after the grass grows up can endure washing by high level and high speed water. It can be a substitute of the concrete, bitumen, stone etc to be the slope protection material. It has mainly been used in highway, railway, riverway, embankment, hillside etc
FEATURES:
1 To prevent the ground surface out of erosion of wind and rain before the growth of greensward.
2 It can fix grass seed at the beginning of seeding, and bear high water level, high speed scouring of rainwater after the compound layer formed.
3 It can replace slope materials such as concrete, bitumen, and jackstone.
APPLICATION
It mainly used in the slope protection of highway, railway, dyke, hillside and so on.
1) It can prevent the embankment from the wind and rain erosion before the turf formed.
2 )It can firmly maintain grass seeds to be evenly distributed on the slope and keep them from rain and lossing.
3 )Black geomat can absorb a lot of heat, increase the surface humidity, promote seed germination, and extend the plant's growth period.
4 )Used in kinds of slopes' protection, such as roads, railways, rivers, dams.
5 )After laying on the sand land surface, the geomat can prevent the movement of sand dunes, greatly improve the surface's roughness, increase the surface sediments, change physiochemical properties of the surface, and improve the local ecological environment
TECHNICAL AND PHYSICAL CHARACTERISTICS
Item

Polymer

Weight per

area unit

Thickness

Tensile strength

Roll

[Kg/m2]

[mm]

[kN/m]

Dimension

EM2

HDPE

220

10

0.8

50×2

EM3

HDPE

260

12

1.6

50×2

EM4

HDPE

350

14

2.0

50×2

EM5

HDPE

430

16

3.2

50×2
INSTALLATION PROCEDURES
1. Prepare the surface by removing large objects, filling any voids to obtain a smooth surface.
2. Fix the geomat at the crest of the slope by means of "U" shaped pins (supplied separately).
3.In some cases an anchor trench may be required for extra stability. Anchor trench dimensions are typically 400mm wide by 300mm deep.
4. Unroll the geomat downward and cut to desired length. Adjacent strips may be butt joined or overlapped by approximately 100mm.
5. Fix the geomat with "U" shaped pins at approximately 1.0m centres and at the joints.
6. Place the bottom end of each strip in a similar anchor trench (if required) and bury with soil.
7. Brush with topsoil until geomat if filled.
8. Spread with grass seed at a rate of 50gm/sqm.